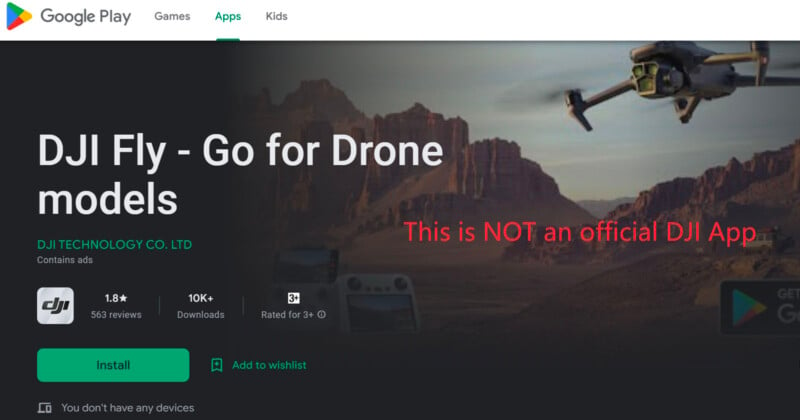 DJI has warned that all DJI-branded apps that are cycling through the Google Play Store are fraudulent and should not be downloaded, as they can pose significant risk to users.
The company published a warning to its users on the DJI Forums stating that there are some apps that will appear that imitate official DJI Apps (such as the DJI Fly – Go for Drone models or the DJI Earning app) that appear legitimate but instead seek to steal or defraud anyone who downloads them, DIY Photography reports.
DJI's official apps aren't even listed on Google Play at all. The company asks Android users to download the app directly from its website. As a result, any DJI app on Google Play is not legitimate. The first action a new drone owner who has an Android phone very likely will take would be to search Google Play for an app, even if DJI expressly states not to in its instruction manual. As long as there are any DJI apps on Google Play, this will continue to be an issue.
DJI pulled support from Google Play in 2021.
"Because the compatibility strategy between the DJI App and Google Play Store is changing, you currently cannot finish downloading and updating using Google Play. Thank you for your understanding," a DJI administrator wrote at the time.
Do Not Download Any DJI App from the Google Play Store
In at least one case, a user mistakenly downloaded one of these apps that masquerades as the official app and, after asking them to opt-in to a trial period, it then charged him $40 which they have been unable to recoup.
"I downloaded the DJI Fly app from the Google Play Store yesterday (8-6-2023) and unfortunately opted to get the '3-day trial' which supposedly charged Google Pay $39.99. I can't seem to find the transaction, and I notice that the app isn't on the Play Store today," Chris Westland writes on the DJI forums.
"So I'm guessing that the scammers are pushing this out to Google on a regular basis, and Google is catching it. I presume it's a scam to get my Google Pay information. I don't see any transactions but will keep looking. Anyway, be careful. These guys are out there and are pretty resourceful. BTW, their app does work with my DJI Mavic Air 2 so maybe it's someone inside DJI who has access to their codebase."
The problem doesn't appear to actually be theft of DJI source code, however, as another user points out that DJI makes its SDK kit available to download which allows scammers to create an app that looks, feels, and operates as though it were legitimate, further confusing customers. The problem is exacerbated by the fact that DJI doesn't have an official presence on the platform.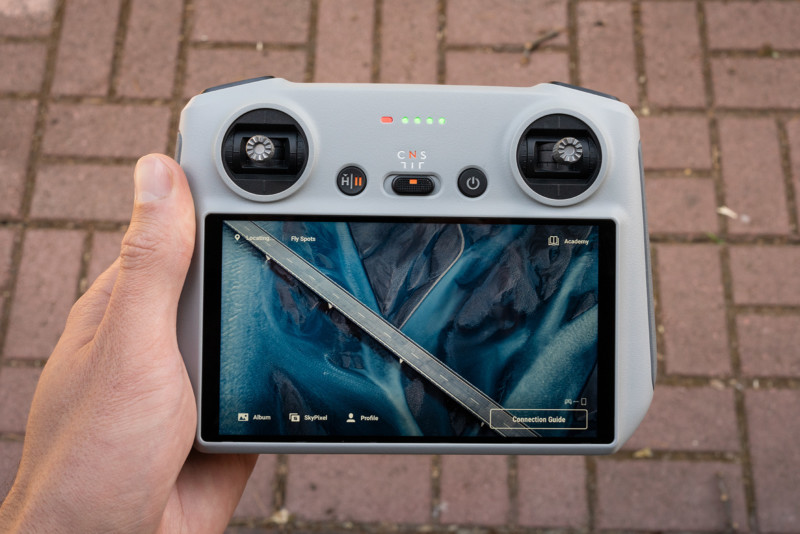 DJI says that it is in active communication with Google regarding the fraudulent apps and considers not only its users as victims in this case, but also itself as it infringes on the company's intellectual property rights.
In an additional statement to PetaPixel, DJI explains that it is actively working to address the situation.
"We are aware of the fraudulent applications that have appeared on the Google Play Store imitating various DJI applications. We take this matter very seriously and have already alerted Google Play administrators," the company says.
"Our top priority is to ensure the safety and security of our users, and we are working diligently to resolve this issue swiftly to prevent any future attempts at creating fake applications. As a reminder to our customers, our official DJI applications are not available on the Google Play Store."
While DJI's official apps are able to be downloaded from the Apple App Store — DJI Fly, for example, has an official App Store link — that is not how users on Android are expected to get the apps. Instead, DJI asks users to find and download the correct apps directly from its website.
DJI is asking any user who finds a DJI app on Google Play to report it and to contact DJI support.