Levion Software's free Photo Map app for Android shows photos stored on device or in multiple cloud storage platforms and illustrates them on a world map so users never lose track of where and when their images were taken.
As smartphones get better and more powerful features, the ability to sort, geotag, and place images on a world map has become more popular. It is a feature that has long been a part of Apple iPhones and has only recently been delivered for Android devices.
Photo Map for Android was initially launched in 2015 as a much more scaled-down iteration of the current software, with many of the features separated into multiple separate apps on the Google store. The app's creator Denny Weinberg said he recently merged everything into one master photo map app to enhance and improve the overall functionality of the product. Weinberg says the app runs without much interaction and integrates seamlessly with multiple cloud-based storage apps such as Google Photos, Google Drive, Dropbox, Microsoft OneDrive, and PhotoPrism.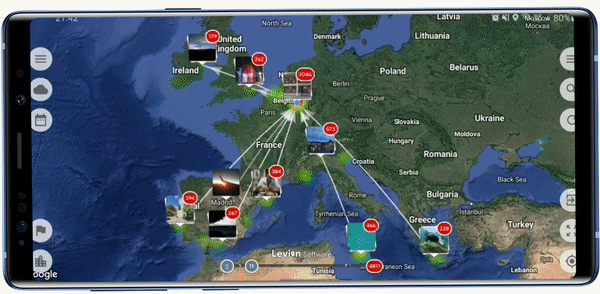 The updated photo map app now includes a "heatmap" feature that will automatically draw lines between the photos taken on the device, enabling users to track their itineraries and travel history and placing the greatest emphasis on the most popular locations a user has visited. This is even available in a 3D mode for a more interactive experience — a highly useful feature that would benefit location scouts for photo or video projects.
On the map itself, tapping any of the areas photographs were taken in will open a window at the bottom of the screen that will display the photos from that area, creating a sort of visual travel diary.
Users can even control the metadata that is shared through the app with options to share the date, time, and geo-location information displayed right on the image itself.
The Photo Map for Android is available to download on the Google App Store for free. Weinberg says he publishes updates and bug fixes on a regular basis also tries to answer every review personally to ensure the users are happy and informed.