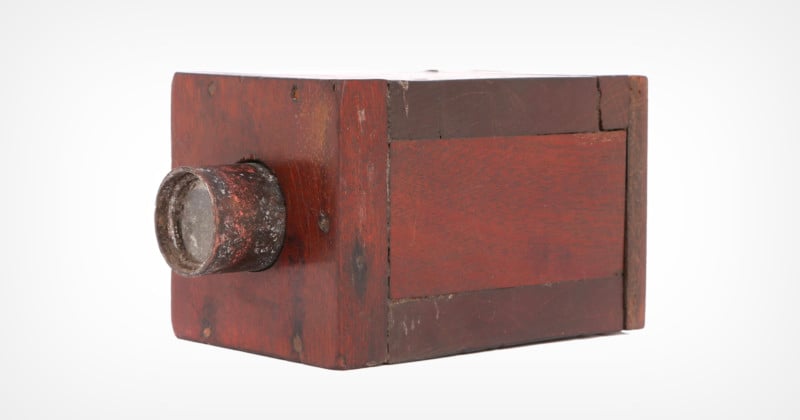 This early experimental "mousetrap" camera constructed out of wood, brass, glass, and bone may be the oldest ever to be sold once it clears auction. Purportedly from around 1840, it is expected to sell for between $65,000 and $91,000.
Described on its Flints Auction listing as unsigned and constructed of solid heavy-gauge mahogany, the camera is of a design that predates modern cameras. The box itself is held together with brass pins, and the front lens panel is also secured by six brass pins with the central aperture holding a brass tube with a single convex lens held in place with a split ring. The rear of the camera is a single door held in place with a steel wire loop and a bone wedge, hence the "mousetrap" design name.
To take a photo, one would place a sensitized piece of paper pinned to that back door.
According to the documentation of the camera, Roger Watson, the Curator of the Fox Talbot Museum, immediately saw that the size, crudeness of construction, and obvious signs of age indicated that it was an early experimental camera.
"By the end of 1839, optical instrument makers in England, France, and the United States were making finely finished and well-made cameras for the gentleman artist," Watson writes. "Prior to that, the earliest experimenters had to make their own cameras and these were usually either a converted camera obscura or, like this one, a simple box with a simple lens in one side. The best-known examples of early experimental cameras are the 'Mousetrap' cameras used by William Henry Fox Talbot between 1835 and 1840 for his experiments in photogenic drawing."
Henry Fox Talbot was an English scientist, inventor, and photography pioneer that lived from 1800 to 1877. He is credited with the invention of a process for creating reasonably light-fast and permanent photographs that were made available to the public, though he was not the first to do so nor the first to publicly announce it. His history appears dotted with multiple controversial claims and patents of similar nature.
Waton does clarify that he has no reason to believe this particular example is a Talbot camera, just one of a similar design.
"Though there is nothing to indicate that this example was made by or used by Talbot."
Watson writes that there are numerous examples of these crude cameras from the period.
"In October 1839, Joseph Saxton took a daguerreotype of the Philadelphia Central High School using a cigar box and a glass lens," he explains. "Similarly in 1840, John Adams Whipple made his first photograph "using a sun-glass for a lens, a candle box for a camera."
Because these cameras are crudely built, small, and made from materials that may not stand up well to the test of time, it's no wonder that examples from the period are hard to find. Additionally, not long after these were more commonly found, the modern manufactured camera took their place and they quickly fell out of use.
"This is a rare survival of the first years of photography," Watson concludes.
You can view the Experimental "Mousetrap" Camera on the Flints Auction website. It is scheduled to go up for auction on November 19th, 2020.
(via Kosmo Foto)
---
Image credits: Photos by Roger Watson FRSA via Flints Auctions