When you think about camera gear, what comes to mind? A camera bag might be an afterthought, but I think it's almost as important as the camera itself! Think about it – what good is a high-quality camera if you don't have a good way to carry it into the field? As a wildlife photographer, I find it critically important to get a bag that's suited to field work. In this article, I'll highlight the most important features I believe the ideal camera backpack must include for wildlife photography.
What makes a good camera bag?
The best camera bag is spacious, lightweight, comfortable, convenient, and protective. It's challenging to get all these things right in a backpack, which is why most camera bags aren't ideal.
Unfortunately, this also means some of the best bags can become pricey, easily over a couple hundred dollars. That being said, I think your bag is among the most important places to put your money as a photographer. A good camera bag makes everything run smoother, and the photography process much more enjoyable.
Without further ado, here's what I consider the "must-have" qualities and features of a bag for wildlife photography.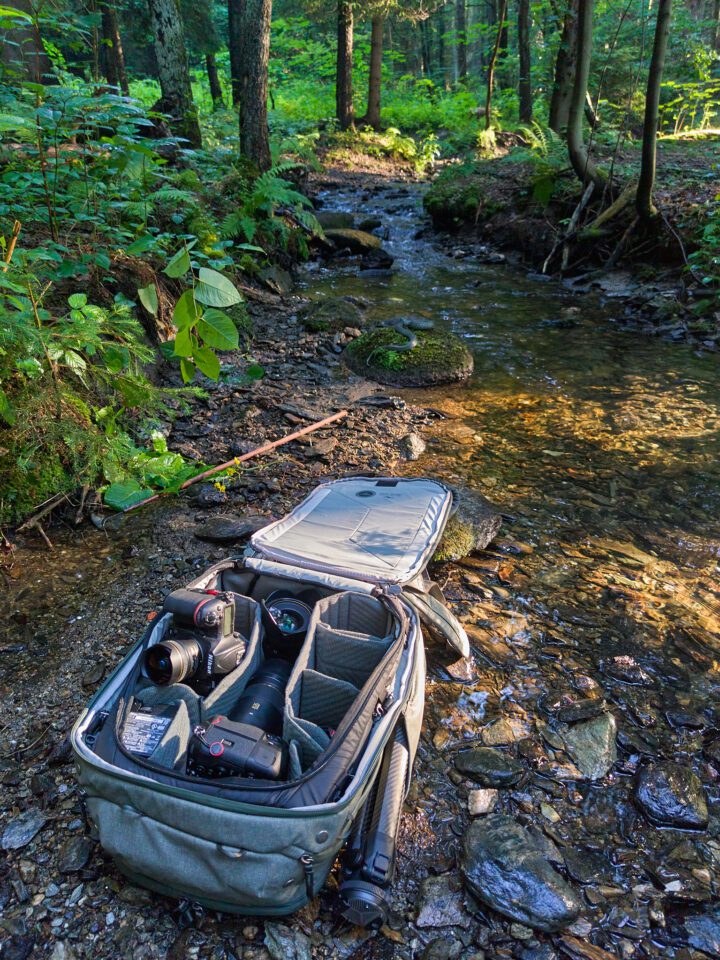 1. Comfort
The most important aspect of a camera bag is how comfortable it is. An uncomfortable bag is an easy way to make wildlife photography a miserable experience. Here are some features that improve the comfort of camera bags.
Keep it lightweight
There is no reason for your camera bag to add extra weight to your already heavy gear. Look for a lightweight option to make your life easier. Most camera bags designed for use in the outdoors will be as light as the manufacturers could manage, but there are some stylish photo bags that I could never recommend because they aren't suited for carrying all day.
Get a backpack with a waist strap
A waist strap takes weight off the shoulders, making carrying heavy gear a breeze. For wildlife photography in the field, I would never purchase any camera bag that didn't have a waist band. Photography gear, especially with large telephoto lenses, can quickly become very heavy. Carrying the weight solely on your shoulders is completely unnecessary.
I would also recommend ensuring that the waist strap is properly padded. This way, the weight can be distributed most effectively, avoiding pressure points. I see a lot of bags that have a 'waist strap' which is merely a strap and no padding. The difference is like and day, I could never go back to carrying the weight of my gear on my shoulders.
Make sure the camera pack is breathable and padded
Cheaper bag options tend to skip padding, and they rarely use breathable material. I don't know about you, but I sweat a lot while out hiking, and I am very grateful my bag allows a lot of air to still flow in between my back and the bag.
Similarly, there should be sufficient padding on the backpack to fit comfortably on your back. It is probably worth trying on a bag before committing to it, to make sure it's comfortable.
2. Space
Maximizing space is key for an effective camera bag. Not everyone may need to fit an 800mm lens in their bag, but it's still nice to have extra space for more layers, food, and so on. When going out into nature, I usually need to carry more than just camera gear, and you're probably the same way.
Customizable compartments
This is a feature most camera bags have today that I love. Be sure you can customize the pads and compartments in your bag to make the most out of the space. Each photographer has a different set of lenses, and each of us will organize our bag differently.
Huge pockets with no dividers is a great way to have gear clang against itself and break. If you get a classic hiking backpack (great for comfort and space) just make sure to get an insert from a company like F-Stop or Shimoda to hold your gear safely.
Water holsters
It's important to make sure that the camera bag you buy has pouches for water bottles on the sides. Preferably each side would have a pouch. As a wildlife photographer, I'm sure you're out in hot and/or dry conditions where you can get dehydrated quickly. I scratch my head when a bag only has one pouch for water, or worse, none.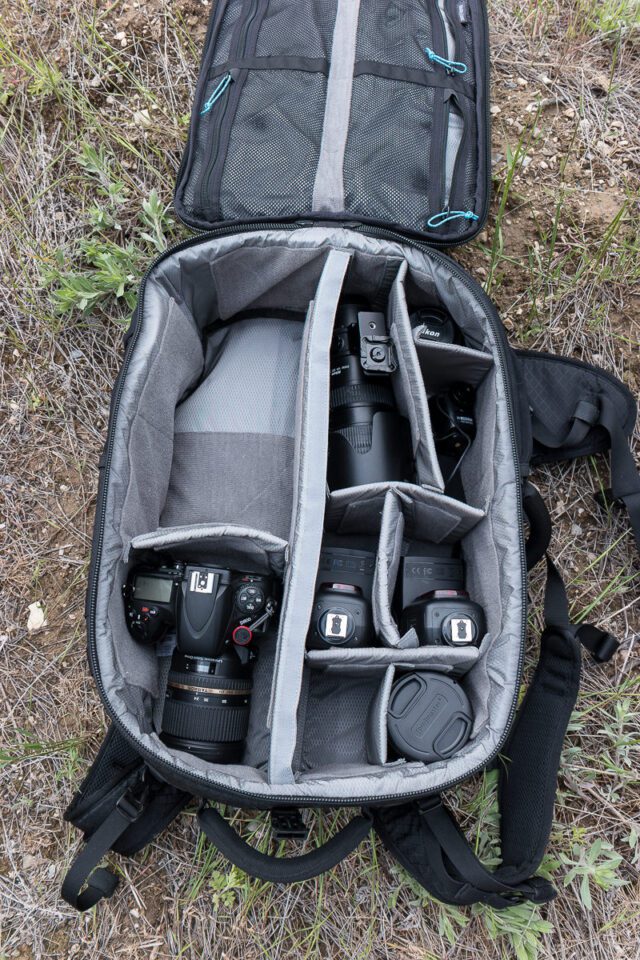 3. Convenience
Especially for wildlife photographers, it's important to be able to have your camera – or any gear you need – at the ready so as to not miss a shot. A camera bag should be designed to give you immediate access to everything you may need.
Flip easy access
One design for instant and easy access to your gear I like is the flip easy access some bags offer. The idea is that you keep the backpack on your waist, but swing it around in front of you so that you can open the bag without taking it off your body and putting it on the ground. I find this design to be extremely convenient, especially when in wet, muddy, or sandy environments.
Not too many pockets
For whatever reason, bags seem to like to advertise how many compartments  and places they have to store gear. I'm not a big fan of having lots of different pockets because it can make it harder to access gear you need. Having only a couple large compartments and some smaller pockets  store gear is plenty. More compartments just adds weight with the extra material.
Tripod holster
A tripod can be tricky to affix to a bag that isn't designed with tripods in mind. I would double check a camera bag is designed with a mechanism to easily attach a large tripod to for long hikes.
4. Protection
A camera bag also needs to protect your gear from the elements. That should go without saying, but I've seen wildlife photographers in the field with some bags that are nowhere near weatherproof. It's a good recipe to damage your gear or deal with fogging issues.
Rain cover
Many camera bags come with small rain covers that can be pulled over the bag in case of showers. This is super important to me because I often find myself caught in the rain. Generally these rain covers work pretty well, but I recommend always carrying a poncho too when there is a chance of rain. Doubling up can keep your camera gear dry even in the hardest of downpours.
Water resistant material
Better than just a rain cover, some bags are made of entirely water resistant material. This is the best option for truly waterproof bag. If you pair a poncho with a rain cover on a water resistant bag, you can conquer any storm!
Hard-to-access pockets
This becomes more important when traveling in areas where petty theft is more common. If your bag's compartments are in a spot that's tough to pick-pocket, it's reassuring. I feel much better when the zippered main compartment to all my gear is right against my back.
5. What bags have all these features?
The perfect bag that has all of these features probably doesn't exist, but I'll go through a few bags from various companies that hit most of these features.
Lowepro Flipside Trek
First and foremost I'll share the camera bag I have used for a while. The Lowepro Flipside Trek is a very admirable bag that hits most essentials mentioned in this article. (In large part, I based the article upon describing this bag because it has served me so well.)
I find the convenience of the flip design to be a major selling point. On top of that, it is lightweight (3.1 lb / 1.4 kg), spacious, and comfortable. It is also quite affordable considering its various features.
Of course, there must be a catch. Unfortunately, it is not the most durable bag. In only three years, I have had to repair the seam that connects the backpack straps to the bag twice. The breathable mesh lining to the padding has also already worn away where the bag sits on my lower back, exposing the foam pad. That being said, I still love my bag, and I've been able to deal with the repairs for myself so far.
Also, the Lowepro Flipside Trek is not the most spacious backpack. It works for all my Micro Four Thirds gear combined, but it would be harder for a full-frame setup with a huge supertelephoto lens. You could still make it fit, but it wouldn't be a luxurious ride. One of the following bags may be a better alternative for wildlife photographers with particularly big lenses.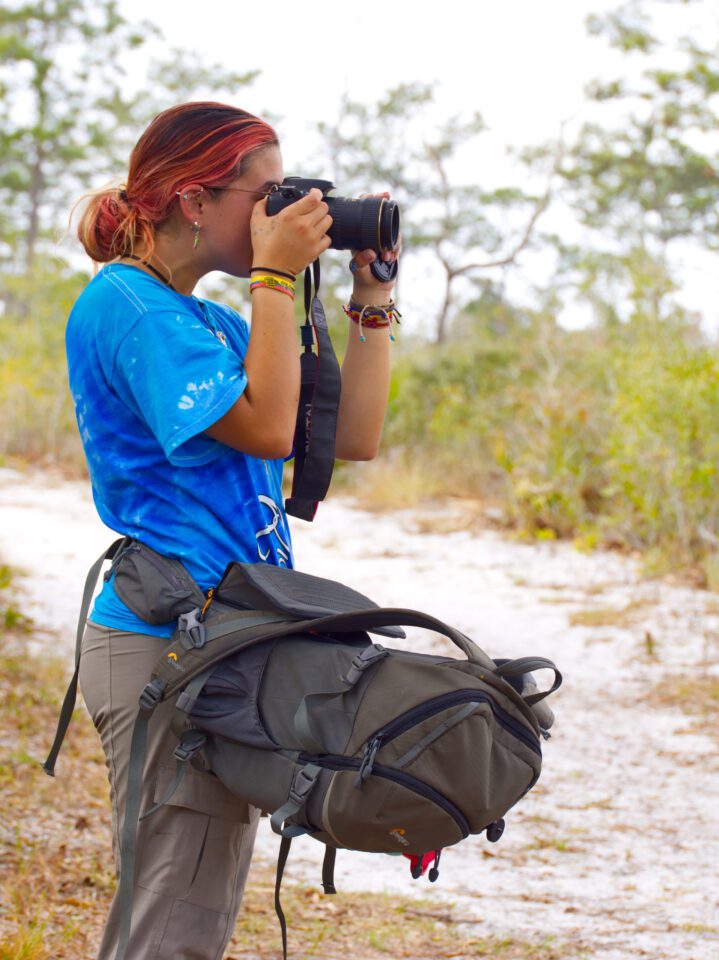 Pros:
Flip easy access
Extremely lightweight at 3.1 lbs
Water holsters
Rain cover
Comfortable with padded waistband
Very Reasonably priced
Cons:
Limited space for 600mm lens
Cannot fit tablet/laptop
Lowepro Flipside Trek BP 350 AW for $199 from B&H
Gitzo Adventury Camera Backback
Gitzo (yes, the tripod company!) has a series of camera bags with large capacities that remain lightweight, comfortable and weather-sealed. The Gitzo Adventury Backpack comes in a 30 liter size, plus a 45 liter size to accommodate long telephoto lenses. These backpacks are built do be comfortable and pack a lot of gear.
One nice feature is that the top of the bag has a rollup compartment for fitting more outdoor gear. Two side pockets can accommodate water bottles or snuggly holster a tripod. Notably, the backpack lacks small compartments for storing camera accessories without entering the main compartments. Only one small front pocket is available if the side pockets are used for carrying water.
This bag is not designed with easy flip access to reach the main compartment without removing the bag from your body. But it can get close, so if you're just dealing with smaller pieces of kit near the top of the bag, you probably don't need to take off the pack.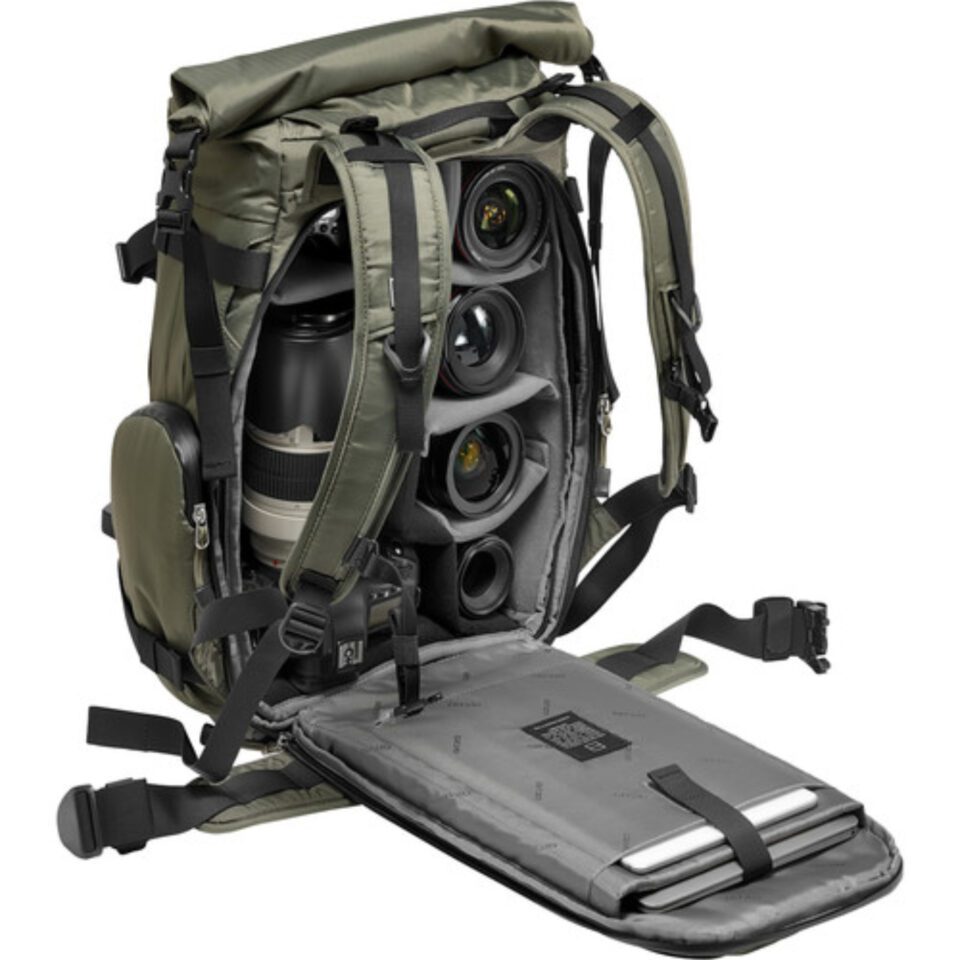 Pros:
Spacious and lightweight (30L and 4.52lbs; 45L and 6.83lb)
Rollup top compartment spacious for non-photography gear
Comfortably padded
Inside pocket fits laptop
Water resistant fabric plus rain cover
Cons
Lack of small compartments for organization
Might have to take backpack off to access gear (no easy flip access)
Relatively expensive
Gitzo Adventury Backpack for $326 from B&H
MindShift Gear BackLight Backpack
The MindShift Gear Backlight Backpacks check a lot of the boxes that I find important. This includes the pockets, water/tripod holders, water resistant material, and flip access.
The bag comes in 4 size options: 18L (3.53 lb), 26L (3.97 lb), 36L (4.85 lb), and 45L (7.05 lb). This puts it a bit on the heavier side, but it's still a comfortable bag, and it has a low profile.
If I had to upgrade my camera bag now, I think I would go for this offer. It is also reasonably price for its versatility, even though the Lowepro bag is less expensive.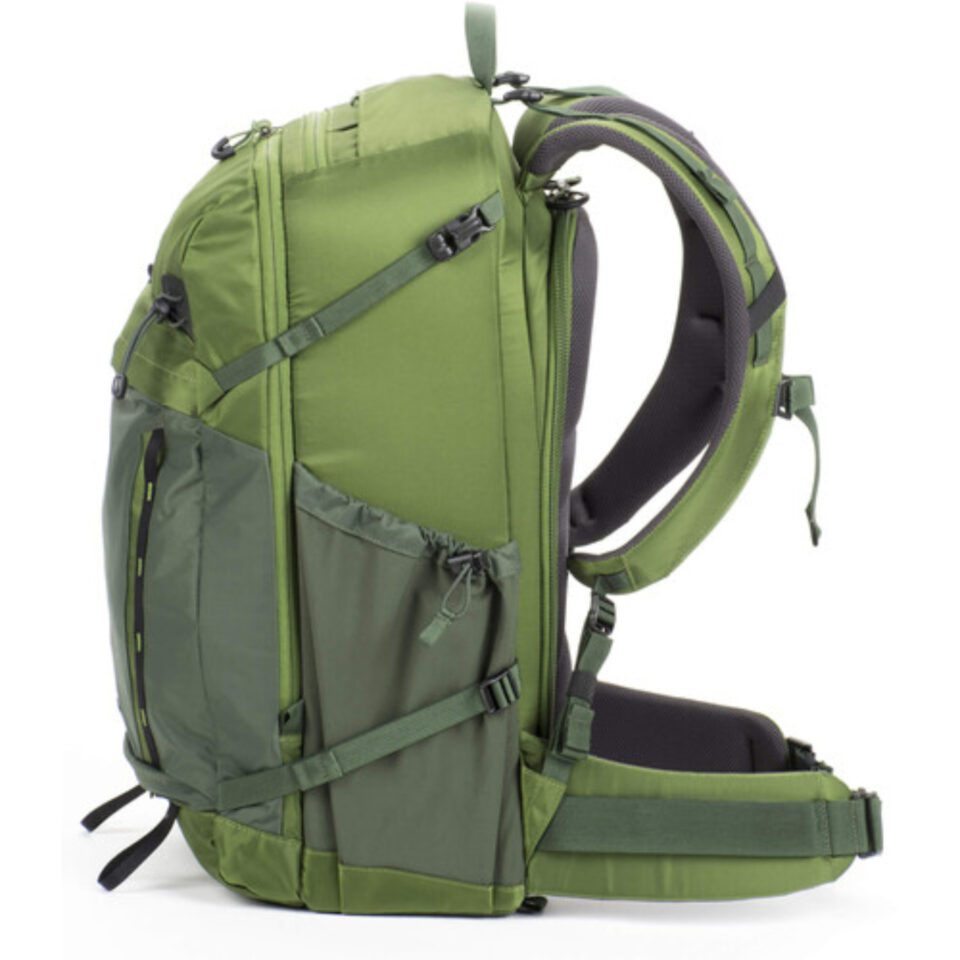 Pros:
Spacious with lots of organizational options
Flip access
Water resistant fabric, plus rain cover
Designated water and tripod holsters
Cons:
Arguably too many pockets and compartments, adding weight and complexity
On the heavier side
Conclusion
Remember, a camera bag is one of the most essential pieces of your camera equipment that makes it possible to get to photographic locations in the first place. Although I gave a few specific recommendations above, the more important part of this article is the list of useful features that I covered at the start.
I hope this article has highlighted what to look for in a good camera bag, and what to avoid. Also, keep in mind that there are a million camera bag companies out there, and still no perfect bag!  Did I miss any of your favorite features or bags? Let me know in the comments below.