A photographer's bag is the unsung hero of the working professional. Without it, photographers simply could not do their jobs. But for as many good bags out there, there are hundreds of bad ones. Let's sift through that noise.
Backpacks are and will always be a highly contentious and subjective debate. Everyone has their favorite and because there are so many different expectations for what a bag should do, few can agree on the best backpack for every photographer.
What We're Looking For
Backpacks need to perform a few tasks well, and that list of requirements changes depending on the envisioned use case. For example, while a day-use bag needs to be light and mobile, a travel bag needs to be comfortable to wear for long periods of time and able to hold more than just camera equipment. Adventure backpacks have a whole different set of requirements like the ability to support extremely precise adjustments and must have an internal rigid support system. In all cases, photographers expect their bags to be durable and long-lasting as well as secure.
I have actually argued in the past that it is impossible to make a single backpack that works for everyone, and I stand by that. It's why in this article, we won't be naming a best backpack for every photographer. Instead, we've broken down our ratings into seven categories that we think cover the most use cases that photographers can expect to run into. We'll update this story as needed, but for now, these are our recommendations for the best backpacks and bags photographers can buy.
---
Price: 20L is $260, 30L is $290
The "day-use" backpack is perhaps the most difficult to sift through as it is the most popular style and therefore the most manufacturers compete to earn your attention. It is also the category where the most concessions are made to appeal to the widest group of photographers, making it very difficult to find one bag that does everything right for every possible use case. Picking Peak Design here might seem like a cop-out, but after years of testing bag after bag after bag from a range of other options, I keep coming back to my Everyday Backpack.
It certainly isn't perfect — but it's also hard to define what perfect would even be in this category. The materials are high quality and thick, but that also means the bag itself is a bit too heavy for my liking and therefore it isn't great to wear for a long period of time — though that isn't to say I have not done it and been perfectly ok at the end of the day. I do like the easy access top cover and Peak's use of magnets all over the bag is always appreciated. It's a tough task to try and compete in this segment, but Peak Design seems to make the fewest concessions to produce a bag that's reasonably comfortable, adaptable, and durable. For now, the Everyday Messenger gets the nod.
Not a fan of Peak? Other options we considered include the WANDRD PRVKE or the LowePro ProTactic.
Best Adventure Backpack for Photographers: Shimoda Action X70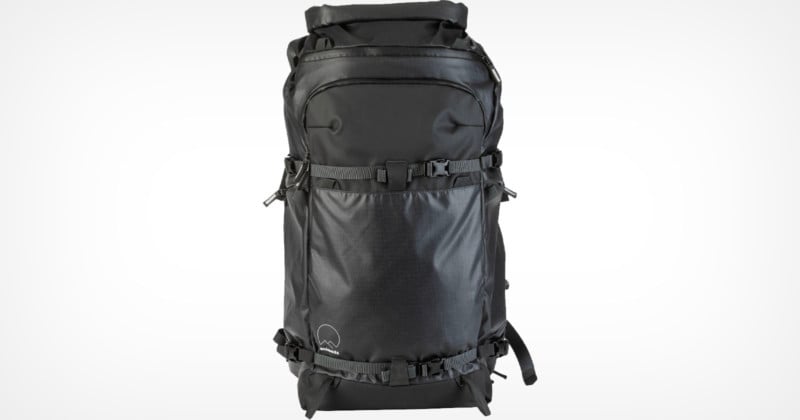 Price: $500 (includes the extra-large photo core)
If you aren't an Adventure photographer, odds are high that you don't quite understand the hype behind Shimoda's products. If you are, then you probably appreciate how adaptable, durable, modular, comfortable, and usable Shimoda bags are. That's really what it comes down to: high utility for an extremely tight use case.
Shimoda makes bags for photographers who plan to take long, multi-mile hikes and need something that can support equipment as well as essentials. Shimoda, therefore, had to create a backpack that could excel at carrying equipment but have all of the other benefits of a true backpacking backpack. The Action X70 is lightweight when empty, has an internal rigid frame that distributes weight evenly across the wearer's back, has adjustable shoulder straps (a must), robust waist straps, and has a removable modular core system that makes it adaptable to the various kinds of adventures a photographer could have.
Shimoda saw a need in the market that was underserved and has truly excelled at making near-perfect bags to fit that specific niche. These bags can take an absolute beating and never tear or fray, and that's important for something that's going to be exposed to the elements immediately and for years. The Shimoda Action series is kind of the hill right now, and it's not close.
Best Travel Backpack for Photographers: Shimoda Explore V2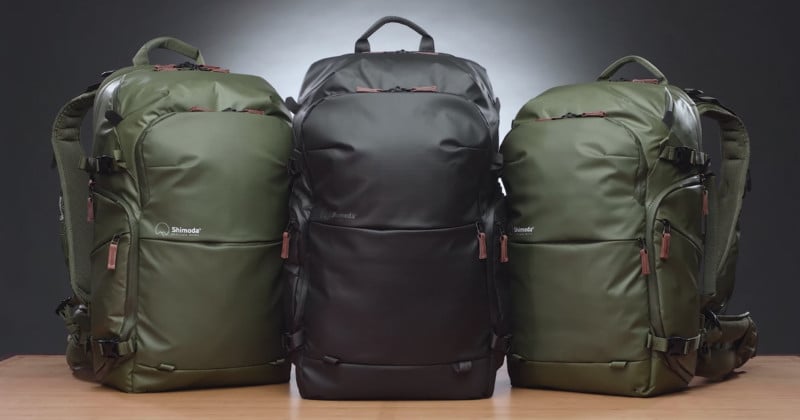 Price: 25L is $372, 30L is $384, and 35L is $400
Shimoda nails adventure so it's no surprise that they hit another home run for travel. The Explore series is brand new and takes everything right about the Action X70 and slims it down into a more manageable size. The excellent build quality and modularity remain but in a package that is much easier to travel with.
The company made a few adjustments to the design that I found make is really great for travel both over land, sea, and air. Firstly, the two shoulder straps have easily accessible pockets that can hold a passport or a smartphone easily which I find very helpful when I need to get on a plane. The bag is lightweight when empty and can hold just enough camera equipment to satisfy a photographer who likes to travel light but also still keeps enough room for a few other basic essentials. It maintains the rigid internal frame found in Shimoda's other bags as well, which means it is able to evenly distribute weight across the wearer's back for more comfortable long-term use.
These bags were built with carry-on in mind, and the Explore 35 v2 qualifies in this regard for those who fly in the United States in "premium seating options," while the Explore 30 v2 is sized for stricter European Union guidelines. The Explore 25 v2 is compact enough that it will travel almost anywhere and easily fit under an airline seat.
This isn't the kind of bag that you can bring and carry everything you need for an international journey, that is more a duffel or the adventure category's game. Instead, this bag is one that you can comfortably wear all day between trips back to a home base, whether that is a tent or a hotel room.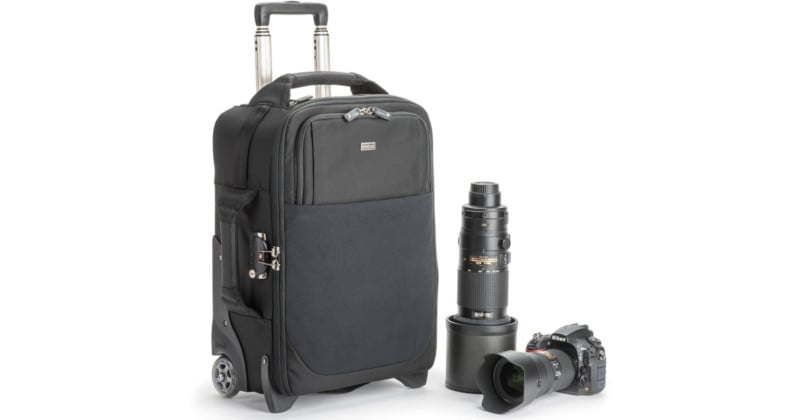 Price: $400
Think Tank has absolutely nailed the rolling bag niche. The company actually has a line of very capable rollers, but the International V3 is likely the best for most. It's great for travel, holds a solid amount of photography equipment, and is made of dependable materials.
Rollers really need to get just a few key things right but few companies nail these fundamentals like Think Tank does with the International: a good handle, smooth wheels, clean access points, and the ability to fit into overhead bins. Think Tank's collapsible handle is exactly what you want to see in a robust yet lightweight design, the wheels make nary a sound when rolling down an airport hallway, the bag is easy to open and features multiple pockets and pouches, and the International is named such because it complies with overhead bin size restrictions for both domestic and international travel.
Price: $260 for the bag alone and $328, which includes one essentials bag and a camera cube
The duffel is a challenging bag category to evaluate and while Peak Design and Shimoda have offerings that may technically qualify, Wandrd stands out as the most versatile. If you are looking for one bag that is capable of holding everything for a multi-day trip but don't expect to wear it on your shoulders the entire time, duffels are a great choice and the HEXAD is the best of the bunch.
The HEXAD is a hybrid backpack and duffel bag but is most certainly useful as both. It uses a modular core system that is easy to put in and remove, so the bag can be more than just a way to transport photography equipment. The system is cavernous and spacious without being overly huge, which means there is enough for cameras, lenses, clothes, and essentials. It achieves this by its ability to open and collapse based on how much needs to be stowed inside of it. At its smallest, it's just a rather large backpack. At its largest, it's a rather impressively big duffel. Its versatility and functionality are really based on its ability to swap between these two forms and everything in between.
The build quality of the Wandrd HEXAD is great too, and I don't expect it to wear out any time soon. If I had one complaint, I wish it shipped with a single over-the-shoulder strap that makes it easy to hoist quickly without wearing it like a true backpack, but it's a minor complaint that is easily rectified.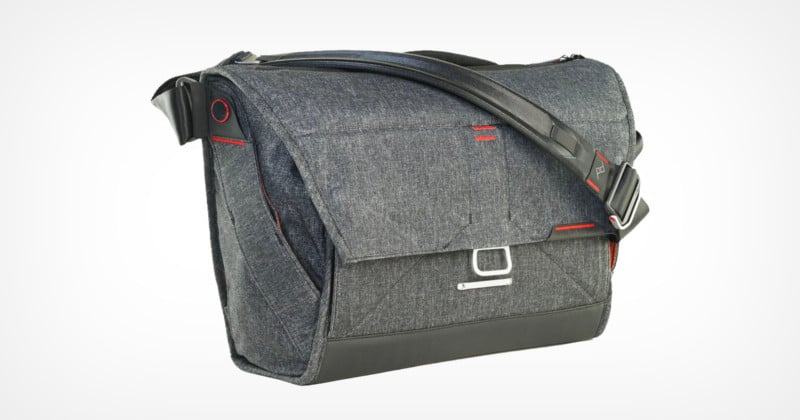 Price: $220
Messengers aren't for everyone, but those who use them like them for their ease of use, quick access, and small size. While the Peak Design Everyday Messenger isn't what most would call "small," it is smaller than full-size backpacks but doesn't sacrifice any of the durable, high-end touches that the bigger bags get. It nails the easy, quick access that messengers need and does so with the little Peak touches that are hard to not love — clever design choices, integration of magnets, convertible interior… it's all here.
It may seem like yet another cop-out to give this pick to Peak Design because they're popular, but these bags are popular for a reason: the Everyday Messenger was the company's first foray into bags and has been wildly successful for years because it, like the Everyday Backpack, seems to make the fewest concessions en route to appeal to the widest group of people.
Price: $60
I cannot overstate how important a good tech pouch is and how having one can be life-changing for a photographer who regularly travels. Before I had a tech pouch, I was cramming cables and adapters and memory card readers into side pockets and constantly losing track of them. The Peak Design Tech Pouch changed all that.
The level of organization that the Tech Pouch affords frees up so much mental energy when I'm on the road. It's a simple bag, but it's so well made that it deserves a call out. I've seen several other tech pouches from other companies but none nail it like Peak. The exterior of the pouch is a tough material that doesn't attract pet hair or dust like small bags like this typically do, and the interior is divided into two main sections with a center divider that holds five additional sections. All seven of these compartments are visible from the second you open the pouch.
I am able to store and organize every little piece of tech I need to charge or connect any time, all at my fingertips in an easy-to-see layout. While the Moment Tech Organizer is close (and less expensive at $50), Peak Design right now makes the best one we have tested and for $60, we think it's well worth the price.
---
Image credits: Header image courtesy of Shimoda.