Voigtlander has announced the 28mm f/2 Ultron Vintage Line lens for Leica M-mount, combining a classic lens exterior with modern optics. The new lens will be available in three different colors.
Cosina, the Japan-based optical equipment manufacturer, has released the three new wide-angle Voigtlander lenses for Leica M-mount as part of its Vintage Line, as first reported by Leica Rumors. Cosina has been manufacturing Voigtlander lenses since 1999.
The newly released lens is available in two versions: Voigtlander Ultron Vintage Line 28mm f/2 Aspherical Type I VM lens and Voigtlander Ultron Vintage Line 28mm f/2 Aspherical Type II VM lens. The former comes as black only while the latter is available in either black or silver.
This lens further expands the wide-angle Vintage Line lens collection and joins the Ultron Vintage Line 35mm f/2 lens for Leica M-mount.
The Type 1 lens weighs only 190 grams (0.41 pounds) while the Type 2 is slightly heavier at 230 grams (0.51 pounds). By comparison, the previously released Voigtlander Ultron 28mm f/2 comes slightly heavier at 244 grams (0.54 pounds).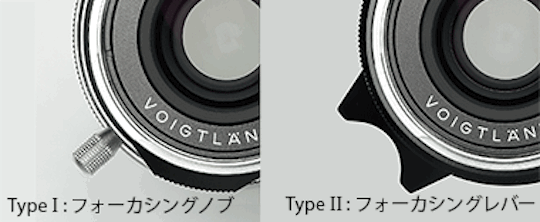 Although the lens comes with a vintage-inspired exterior that is made of metal, it is designed to be on par with modern photography equipment, giving photographers the ability to be both discrete and fast, while the wide-angle view opens up opportunities for a variety of subjects, from people, to still life, and architecture.
The optical design of this lens is made of 10 elements in seven groups and has 10 aperture blades, with the previously mentioned older lens model is made of 10 elements in eight groups. What this means is that it should offer some visual difference from the older model, but no sample images were available at the time of publication.
Cosina says the lens is made to consistently deliver good image quality both on film and in digital. It achieves a minimum aperture of f/22, while the shortest shooting distance reaches 0.5 meters (19.7 inches). The focus can be adjusted with a focusing knob in addition to the distance ring, which Cosina claims make for effective snapshot shooting.
The lens uses a bayonet-type VM mount, meaning it can be used not only with rangefinder-linked cameras but also with mirrorless digital cameras when using a mount adapter for compatibility.
Cosina also says it has secured a generous image circle that supports full-frame 35mm format, while still achieving a compact style compared to interchangeable lenses for single-reflex cameras.
Pre-orders for the lens are said to open soon with the LH-4N and LH-12 lens hoods to be sold separately.